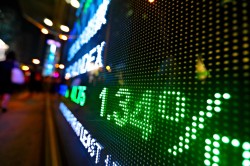 FinTech Acquisition Corp. III (NASDAQ:FTAC) posted its earnings results on Wednesday. The company reported ($0.15) earnings per share (EPS) for the quarter, Fidelity Earnings reports.
FTAC stock traded up $0.37 during mid-day trading on Friday, reaching $11.37. The company had a trading volume of 973,640 shares, compared to its average volume of 409,634. The stock has a market capitalization of $503.54 million, a price-to-earnings ratio of 87.47 and a beta of 0.02. FinTech Acquisition Corp. III has a one year low of $9.75 and a one year high of $12.25.
In other FinTech Acquisition Corp. III news, major shareholder Glazer Capital, Llc sold 1,900,000 shares of the firm's stock in a transaction on Wednesday, October 14th. The stock was sold at an average price of $10.79, for a total value of $20,501,000.00. The transaction was disclosed in a legal filing with the SEC, which is available through this hyperlink. Company insiders own 1.50% of the company's stock.
FinTech Acquisition Corp. III Company Profile
FinTech Acquisition Corp. III does not have significant operations. It intends to effect a merger, capital stock exchange, asset acquisition, stock purchase, and reorganization or similar business combination with one or more businesses or assets. The company was founded in 2017 and is based in Philadelphia, Pennsylvania.
Featured Article: What is required to own or exchange cryptocurrency?
Receive News & Ratings for FinTech Acquisition Corp. III Daily - Enter your email address below to receive a concise daily summary of the latest news and analysts' ratings for FinTech Acquisition Corp. III and related companies with MarketBeat.com's FREE daily email newsletter.