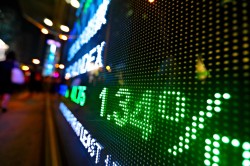 Hepion Pharmaceuticals, Inc. (NASDAQ:HEPA) was the target of a significant drop in short interest in the month of September. As of September 15th, there was short interest totalling 471,000 shares, a drop of 22.7% from the August 31st total of 609,400 shares. Based on an average trading volume of 1,530,000 shares, the short-interest ratio is currently 0.3 days.
HEPA traded down $0.11 during trading on Thursday, hitting $3.00. The company's stock had a trading volume of 118,668 shares, compared to its average volume of 984,943. The company has a current ratio of 6.98, a quick ratio of 6.98 and a debt-to-equity ratio of 0.04. Hepion Pharmaceuticals has a one year low of $1.00 and a one year high of $8.35. The company has a market capitalization of $28.07 million, a PE ratio of -0.52 and a beta of 1.79.
Hepion Pharmaceuticals (NASDAQ:HEPA) last announced its quarterly earnings data on Wednesday, August 12th. The company reported ($0.58) EPS for the quarter, missing the Thomson Reuters' consensus estimate of ($0.50) by ($0.08). Equities analysts forecast that Hepion Pharmaceuticals will post -1.63 earnings per share for the current fiscal year.
About Hepion Pharmaceuticals
Hepion Pharmaceuticals, Inc, a biopharmaceutical company, focuses on the development of pleiotropic drug therapy for the treatment of chronic liver diseases in the United States. It is involved in developing CRV431, a cyclophilin inhibitor that has completed the Phase I clinical trials for multiple biochemical pathways involved in the progression of liver diseases; and Tenofovir exalidex, a lipid acyclic nucleoside phosphonate that delivers high intracellular concentrations of the active antiviral agent tenofovir diphosphate for the treatment of Hepatitis B.
Recommended Story: Are all No-Load Funds Equal?
Receive News & Ratings for Hepion Pharmaceuticals Daily - Enter your email address below to receive a concise daily summary of the latest news and analysts' ratings for Hepion Pharmaceuticals and related companies with MarketBeat.com's FREE daily email newsletter.