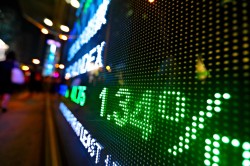 ValuEngine lowered shares of Liminal BioSciences (NASDAQ:LMNL) from a buy rating to a hold rating in a research report sent to investors on Thursday, ValuEngine reports.
Separately, Echelon Wealth Partners reissued a hold rating and set a $21.00 target price on shares of Liminal BioSciences in a research note on Friday, July 3rd.
LMNL traded down $7.48 on Thursday, hitting $16.31. 770,714 shares of the company were exchanged, compared to its average volume of 194,992. Liminal BioSciences has a twelve month low of $5.25 and a twelve month high of $31.45. The stock has a market capitalization of $385.29 million, a price-to-earnings ratio of -1.95 and a beta of 2.23. The company has a debt-to-equity ratio of 0.54, a current ratio of 2.66 and a quick ratio of 2.39.
Liminal BioSciences (NASDAQ:LMNL) last released its earnings results on Wednesday, May 13th. The company reported ($0.87) EPS for the quarter. Liminal BioSciences had a negative return on equity of 135.51% and a negative net margin of 1,262.07%. The company had revenue of $0.82 million for the quarter.
Liminal BioSciences Company Profile
Liminal BioSciences Inc operates as a biopharmaceutical company with two drug discovery platforms that focuses on unmet medical needs. It operates through three segments: Small Molecule Therapeutics, Plasma Derived Therapeutics, and Bioseparations. The Small Molecule Therapeutics segment's lead product candidate is PBI-4050, which targets unmet medical needs, such as the treatment of idiopathic pulmonary fibrosis, Alström syndrome, and other fibrotic indications.
Read More: What is the Russell 2000 Index?
To view ValuEngine's full report, visit ValuEngine's official website.
Receive News & Ratings for Liminal BioSciences Daily - Enter your email address below to receive a concise daily summary of the latest news and analysts' ratings for Liminal BioSciences and related companies with MarketBeat.com's FREE daily email newsletter.