Erie Indemnity (NASDAQ:ERIE) announced a quarterly dividend on Friday, December 13th, RTT News reports. Investors of record on Tuesday, January 7th will be paid a dividend of 0.965 per share by the financial services provider on Wednesday, January 22nd. This represents a $3.86 annualized dividend and a yield of 2.29%. This is a boost from Erie Indemnity's previous quarterly dividend of $0.90.
NASDAQ ERIE traded up $0.07 on Friday, hitting $168.80. The company had a trading volume of 71,450 shares, compared to its average volume of 119,625. The company has a market capitalization of $7.96 billion, a PE ratio of 28.21 and a beta of 0.38. The company's fifty day moving average price is $176.32 and its 200-day moving average price is $210.87. The company has a debt-to-equity ratio of 0.09, a current ratio of 2.10 and a quick ratio of 2.10. Erie Indemnity has a 12-month low of $123.94 and a 12-month high of $270.23.
Erie Indemnity (NASDAQ:ERIE) last issued its quarterly earnings results on Thursday, October 24th. The financial services provider reported $1.80 EPS for the quarter, topping the consensus estimate of $1.68 by $0.12. The company had revenue of $638.74 million during the quarter, compared to analyst estimates of $639.70 million. Erie Indemnity had a net margin of 13.01% and a return on equity of 30.65%. On average, sell-side analysts anticipate that Erie Indemnity will post 6.22 EPS for the current year.
ERIE has been the subject of several recent analyst reports.
ValuEngine
lowered shares of Erie Indemnity from a "hold" rating to a "sell" rating in a report on Thursday, November 21st. BidaskClub lowered shares of Erie Indemnity from a "sell" rating to a "strong sell" rating in a report on Wednesday, December 4th. Finally,
Zacks Investment Research
raised shares of Erie Indemnity from a "hold" rating to a "buy" rating and set a $209.00 target price on the stock in a research note on Thursday, October 31st.
In other Erie Indemnity news, Director J Ralph Borneman, Jr. sold 20,000 shares of Erie Indemnity stock in a transaction on Tuesday, September 17th. The shares were sold at an average price of $210.00, for a total transaction of $4,200,000.00. The sale was disclosed in a legal filing with the SEC, which is accessible through the SEC website. Insiders own 46.87% of the company's stock.
Erie Indemnity Company Profile
Erie Indemnity Company operates as a managing attorney-in-fact for the subscribers at the Erie Insurance Exchange in the United States. The company provides sales, underwriting, and policy issuance services for the policyholders on behalf of the Erie Insurance Exchange. Its sales related services include agent compensation, and sales and advertising support services; and underwriting services comprise underwriting and policy processing, as well as provides administrative support, information technology, and customer services.
Read More: How To Calculate Debt-to-Equity Ratio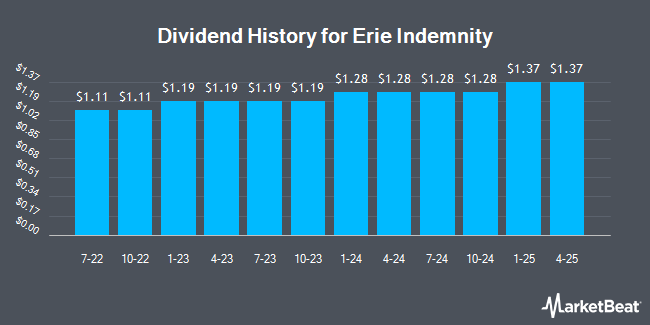 Receive News & Ratings for Erie Indemnity Daily - Enter your email address below to receive a concise daily summary of the latest news and analysts' ratings for Erie Indemnity and related companies with MarketBeat.com's FREE daily email newsletter.