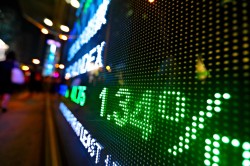 Daejan (LON:DJAN) issued its quarterly earnings data on Wednesday. The company reported GBX (70) (($0.91)) earnings per share for the quarter, Digital Look Earnings reports.
Shares of LON DJAN remained flat at $GBX 5,350 ($69.91) during midday trading on Friday. 1,369 shares of the company were exchanged, compared to its average volume of 2,660. Daejan has a fifty-two week low of GBX 4,715 ($61.61) and a fifty-two week high of GBX 6,160 ($80.49). The stock's 50 day moving average is GBX 4,948.97 and its 200-day moving average is GBX 5,331.10. The company has a current ratio of 2.69, a quick ratio of 2.06 and a debt-to-equity ratio of 25.71. The firm has a market capitalization of $863.66 million and a P/E ratio of 14.55.
The business also recently disclosed a dividend, which will be paid on Friday, March 6th. Investors of record on Thursday, February 6th will be paid a dividend of GBX 35 ($0.46) per share. This represents a dividend yield of 0.67%. The ex-dividend date of this dividend is Thursday, February 6th. Daejan's dividend payout ratio is currently 0.29%.
About Daejan
Daejan Holdings Plc, together with its subsidiaries, engages in the property investment activities in the United Kingdom and the United States. Its property portfolio includes commercial, industrial, and residential properties. The company was incorporated in 1935 and is headquartered in London, the United Kingdom.
See Also: Understanding Specialty Certificates of Deposit

Receive News & Ratings for Daejan Daily - Enter your email address below to receive a concise daily summary of the latest news and analysts' ratings for Daejan and related companies with MarketBeat.com's FREE daily email newsletter.