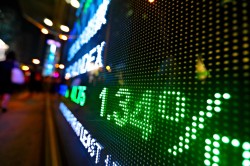 Walker Crips Group (LON:WCW) issued its quarterly earnings results on Wednesday. The company reported GBX 1.18 ($0.02) earnings per share for the quarter, Digital Look Earnings reports.
WCW opened at GBX 28 ($0.37) on Thursday. The company has a debt-to-equity ratio of 0.59, a quick ratio of 1.24 and a current ratio of 1.24. Walker Crips Group has a fifty-two week low of GBX 22.25 ($0.29) and a fifty-two week high of GBX 35 ($0.46). The firm's fifty day moving average is GBX 26.56 and its 200 day moving average is GBX 26.16. The stock has a market cap of $11.92 million and a price-to-earnings ratio of 35.00.
The company also recently announced a dividend, which will be paid on Friday, December 20th. Investors of record on Thursday, December 5th will be paid a dividend of GBX 0.60 ($0.01) per share. This is a boost from Walker Crips Group's previous dividend of $0.33. The ex-dividend date of this dividend is Thursday, December 5th. This represents a dividend yield of 2.22%. Walker Crips Group's payout ratio is 1.25%.
Walker Crips Group Company Profile
Walker Crips Group plc provides financial services in the United Kingdom. It operates through two segments, Investment Management and Wealth Management. The company offers bespoke discretionary and advisory management services, as well as discretionary fund management; structured investment services; stockbroking services, including advisory dealing and execution-only services; and alternative investment products and services.
Featured Story: How liquidity affects the bid-ask spread
Receive News & Ratings for Walker Crips Group Daily - Enter your email address below to receive a concise daily summary of the latest news and analysts' ratings for Walker Crips Group and related companies with MarketBeat.com's FREE daily email newsletter.