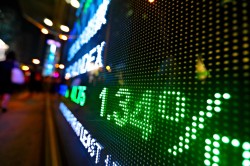 Rimini Street (NASDAQ:RMNI) released its earnings results on Thursday. The company reported $0.10 EPS for the quarter, topping analysts' consensus estimates of $0.04 by $0.06, Fidelity Earnings reports. Rimini Street had a negative net margin of 15.41% and a negative return on equity of 8.20%. The company had revenue of $68.95 million for the quarter, compared to analysts' expectations of $69.21 million.
NASDAQ RMNI traded up $0.18 on Friday, reaching $4.14. 54,600 shares of the stock were exchanged, compared to its average volume of 60,725. The company's 50-day simple moving average is $4.14 and its two-hundred day simple moving average is $4.76. The firm has a market capitalization of $272.79 million, a PE ratio of -12.94, a PEG ratio of 0.59 and a beta of -0.15. Rimini Street has a one year low of $3.63 and a one year high of $7.26.
Separately, Zacks Investment Research upgraded shares of Rimini Street from a "hold" rating to a "buy" rating and set a $4.50 target price on the stock in a research note on Saturday.
In other Rimini Street news, SVP Nancy Lyskawa sold 45,000 shares of Rimini Street stock in a transaction on Thursday, August 15th. The shares were sold at an average price of $4.76, for a total transaction of $214,200.00. The transaction was disclosed in a document filed with the Securities & Exchange Commission, which is available through
this hyperlink
. Also, SVP Kevin Maddock sold 9,500 shares of Rimini Street stock in a transaction on Friday, October 11th. The stock was sold at an average price of $3.99, for a total transaction of $37,905.00. Insiders have sold 578,852 shares of company stock valued at $3,219,623 over the last ninety days. 64.25% of the stock is owned by insiders.
About Rimini Street
Rimini Street, Inc provides enterprise software products and services for various industries. The company offers third-party support for Oracle and SAP software products. It sells its solutions primarily through direct sales organizations in North America, Latin America, Europe, Africa, the Middle East, Asia, and the Asia-Pacific.
Further Reading: What is channel trading?

Receive News & Ratings for Rimini Street Daily - Enter your email address below to receive a concise daily summary of the latest news and analysts' ratings for Rimini Street and related companies with MarketBeat.com's FREE daily email newsletter.