Invesco Mortgage Capital (NYSE:IVR) issued its quarterly earnings results on Thursday. The real estate investment trust reported $0.47 earnings per share (EPS) for the quarter, beating the consensus estimate of $0.45 by $0.02, Briefing.com reports. Invesco Mortgage Capital had a positive return on equity of 12.51% and a negative net margin of 6.91%. The firm had revenue of $73.03 million for the quarter, compared to analyst estimates of $76.80 million. During the same period in the previous year, the company posted $0.41 earnings per share. The company's quarterly revenue was up 3.1% compared to the same quarter last year.
IVR traded up $0.49 on Friday, hitting $16.22. 1,782,720 shares of the stock traded hands, compared to its average volume of 1,271,967. Invesco Mortgage Capital has a 52 week low of $13.67 and a 52 week high of $16.67. The firm has a market capitalization of $2.24 billion, a PE ratio of 8.72 and a beta of 0.75. The business has a fifty day moving average price of $15.52 and a two-hundred day moving average price of $15.88. The company has a current ratio of 0.01, a quick ratio of 0.01 and a debt-to-equity ratio of 0.78.
The company also recently declared a quarterly dividend, which was paid on Monday, October 28th. Investors of record on Friday, September 27th were paid a dividend of $0.45 per share. The ex-dividend date was Thursday, September 26th. This represents a $1.80 annualized dividend and a yield of 11.10%.
In related news, Director Edward J. Hardin acquired 2,500 shares of the stock in a transaction dated Wednesday, August 21st. The shares were bought at an average cost of $15.73 per share, for a total transaction of $39,325.00. Following the purchase, the director now owns 35,357 shares in the company, valued at approximately $556,165.61. The acquisition was disclosed in a legal filing with the SEC, which is available through
this link
. Also, insider Mario Clemente acquired 2,000 shares of the stock in a transaction dated Friday, August 16th. The stock was bought at an average price of $15.71 per share, for a total transaction of $31,420.00. The disclosure for this purchase can be found
here
. Corporate insiders own 0.26% of the company's stock.
Separately, TheStreet lowered Invesco Mortgage Capital from a "c" rating to a "d+" rating in a research note on Thursday, August 8th.
Invesco Mortgage Capital Company Profile
Invesco Mortgage Capital Inc operates as a real estate investment trust (REIT) that focuses on investing in, financing, and managing residential and commercial mortgage-backed securities, and other mortgage-related assets. It invests in residential mortgage-backed securities (RMBS) and commercial mortgage-backed securities (CMBS) that are guaranteed by a U.S.
Featured Article: What is a stock buyback?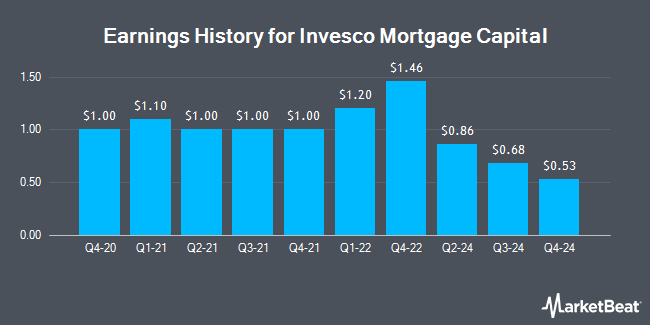 Receive News & Ratings for Invesco Mortgage Capital Daily - Enter your email address below to receive a concise daily summary of the latest news and analysts' ratings for Invesco Mortgage Capital and related companies with MarketBeat.com's FREE daily email newsletter.