Manhattan Bridge Capital (NASDAQ:LOAN) issued its quarterly earnings data on Monday. The credit services provider reported $0.12 EPS for the quarter, topping analysts' consensus estimates of $0.11 by $0.01, Fidelity Earnings reports. Manhattan Bridge Capital had a net margin of 60.04% and a return on equity of 13.60%.
LOAN stock opened at $6.30 on Tuesday. Manhattan Bridge Capital has a 12 month low of $5.34 and a 12 month high of $6.73. The company has a 50-day moving average price of $6.29 and a 200 day moving average price of $6.22. The stock has a market cap of $61.81 million, a PE ratio of 13.62 and a beta of 0.29.
The company also recently declared a quarterly dividend, which was paid on Tuesday, October 15th. Investors of record on Thursday, October 10th were paid a dividend of $0.12 per share. The ex-dividend date was Wednesday, October 9th. This represents a $0.48 dividend on an annualized basis and a dividend yield of 7.62%.
Separately, Maxim Group set a $8.00 price objective on shares of Manhattan Bridge Capital and gave the stock a "buy" rating in a research note on Wednesday, August 7th.
About Manhattan Bridge Capital
Manhattan Bridge Capital, Inc, a real estate finance company, originates, services, and manages a portfolio of first mortgage loans in the United States. It offers short-term, secured, and non-banking loans to real estate investors to fund their acquisition, renovation, rehabilitation, or enhancement of properties in the New York metropolitan area.
Featured Article: How to Trade Using Analysts Ratings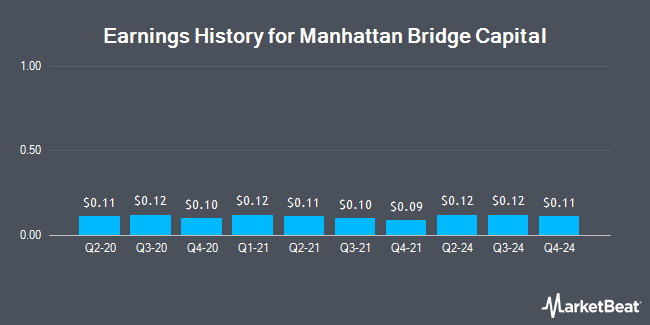 Receive News & Ratings for Manhattan Bridge Capital Daily - Enter your email address below to receive a concise daily summary of the latest news and analysts' ratings for Manhattan Bridge Capital and related companies with MarketBeat.com's FREE daily email newsletter.