FB Financial (NYSE:FBK) issued its quarterly earnings data on Monday. The financial services provider reported $0.77 earnings per share (EPS) for the quarter, beating the Thomson Reuters' consensus estimate of $0.72 by $0.05, Fidelity Earnings reports. FB Financial had a net margin of 19.82% and a return on equity of 11.94%.
Shares of FBK opened at $38.12 on Tuesday. The company has a market cap of $1.16 billion, a price-to-earnings ratio of 14.61 and a beta of 0.98. FB Financial has a twelve month low of $30.33 and a twelve month high of $39.58. The company has a quick ratio of 0.86, a current ratio of 0.91 and a debt-to-equity ratio of 0.05. The company has a 50 day moving average of $37.22 and a two-hundred day moving average of $36.21.
Several brokerages recently issued reports on FBK. DA Davidson began coverage on shares of FB Financial in a report on Wednesday, October 9th. They set a "neutral" rating and a $40.00 price objective on the stock. Zacks Investment Research upgraded shares of FB Financial from a "sell" rating to a "hold" rating in a research note on Monday, October 14th. ValuEngine downgraded shares of FB Financial from a "hold" rating to a "sell" rating in a research note on Saturday. Finally, Stephens restated a "buy" rating and issued a $42.00 target price on shares of FB Financial in a research note on Wednesday, September 18th. One research analyst has rated the stock with a sell rating, two have issued a hold rating and three have issued a buy rating to the stock. FB Financial presently has a consensus rating of "Hold" and a consensus target price of $41.40.
About FB Financial
FB Financial Corporation operates as a bank holding company for FirstBank that provides a suite of commercial and consumer banking services businesses, professionals, and individuals. The company operates in two segments, Banking and Mortgage. It provides demand, negotiable order of withdrawal, money market, certificates of deposit, and municipal and savings accounts, as well as time deposits.
Featured Article: What does RSI mean?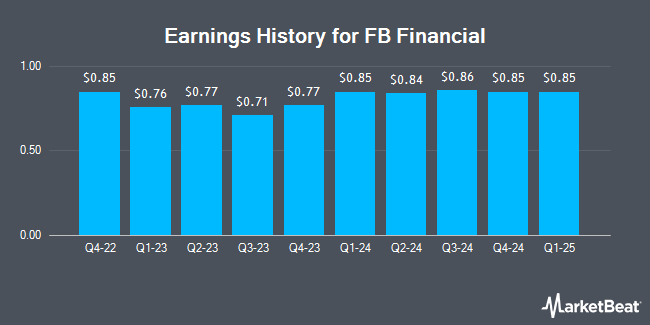 Receive News & Ratings for FB Financial Daily - Enter your email address below to receive a concise daily summary of the latest news and analysts' ratings for FB Financial and related companies with MarketBeat.com's FREE daily email newsletter.