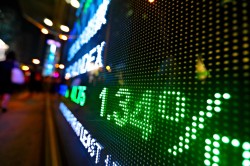 Ibio Inc (NYSEAMERICAN:IBIO) was the target of a significant drop in short interest during the month of June. As of June 15th, there was short interest totalling 232,200 shares, a drop of 5.3% from the May 15th total of 245,200 shares. Approximately 1.3% of the shares of the stock are sold short. Based on an average trading volume of 44,000 shares, the days-to-cover ratio is presently 5.3 days.
NYSEAMERICAN:IBIO traded up $0.01 during mid-day trading on Friday, reaching $0.72. The stock had a trading volume of 12,028 shares, compared to its average volume of 60,568. Ibio has a 12 month low of $0.50 and a 12 month high of $1.10.
Ibio (NYSEAMERICAN:IBIO) last announced its quarterly earnings data on Friday, May 10th. The biotechnology company reported ($0.22) earnings per share (EPS) for the quarter. The company had revenue of $0.53 million for the quarter.
Ibio Company Profile
iBio, Inc, a biotechnology company, provides product development and manufacturing services to clients, collaborators, and third-party customers in the United States and internationally. The company's services cover the stages of product selection, regulatory approval, and commercial product launch.
Recommended Story: What is the LIBOR?

Receive News & Ratings for Ibio Daily - Enter your email address below to receive a concise daily summary of the latest news and analysts' ratings for Ibio and related companies with MarketBeat.com's FREE daily email newsletter.