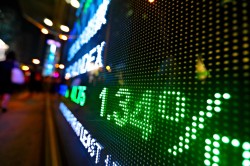 HC Wainwright lowered shares of Hydrogenics (TSE:HYG) (NASDAQ:HYGS) from a buy rating to a neutral rating in a report issued on Friday, June 28th, Zacks.com reports.
Separately, Roth Capital cut Hydrogenics from a buy rating to a neutral rating in a report on Monday, March 18th.
Shares of HYG traded up C$0.01 during mid-day trading on Friday, reaching C$19.46. 7,500 shares of the company's stock traded hands, compared to its average volume of 8,363. The firm's 50-day simple moving average is C$17.60. The company has a market cap of $368.35 million and a PE ratio of -22.34. The company has a quick ratio of 1.00, a current ratio of 1.71 and a debt-to-equity ratio of 41.55. Hydrogenics has a 12 month low of C$5.20 and a 12 month high of C$21.56.
Hydrogenics (TSE:HYG) (NASDAQ:HYGS) last released its quarterly earnings results on Tuesday, May 14th. The company reported C($0.20) earnings per share for the quarter, missing the Zacks' consensus estimate of C($0.19) by C($0.01). The firm had revenue of C$10.75 million during the quarter, compared to the consensus estimate of C$12.73 million. As a group, analysts expect that Hydrogenics will post -0.3 EPS for the current fiscal year.
About Hydrogenics
Hydrogenics Corporation, together with its subsidiaries, designs, develops, and manufactures hydrogen generation products based on water electrolysis technology; and fuel cell products based on proton exchange membrane (PEM) technology. It operates through two segments, OnSite Generation and Power Systems.
See Also: The Discount Rate – What You Need to Know
Receive News & Ratings for Hydrogenics Daily - Enter your email address below to receive a concise daily summary of the latest news and analysts' ratings for Hydrogenics and related companies with MarketBeat.com's FREE daily email newsletter.