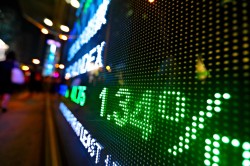 Edison Nation Inc (NASDAQ:EDNT) saw a significant increase in short interest in June. As of June 15th, there was short interest totalling 15,600 shares, an increase of 12.2% from the May 15th total of 13,900 shares. Currently, 1.1% of the company's stock are short sold. Based on an average trading volume of 26,100 shares, the short-interest ratio is presently 0.6 days.
Shares of NASDAQ:EDNT traded up $0.01 on Friday, hitting $2.22. 768 shares of the company were exchanged, compared to its average volume of 22,310. Edison Nation has a 1-year low of $1.85 and a 1-year high of $7.83. The stock has a 50 day moving average price of $2.60.
In other news, CEO Christopher Ferguson bought 14,250 shares of the stock in a transaction on Wednesday, May 22nd. The stock was bought at an average cost of $3.39 per share, for a total transaction of $48,307.50. The acquisition was disclosed in a document filed with the Securities & Exchange Commission, which can be accessed through this link. Also, insider Kevin James Ferguson bought 12,400 shares of the stock in a transaction on Wednesday, May 22nd. The stock was purchased at an average price of $3.59 per share, with a total value of $44,516.00. The disclosure for this purchase can be found here. Over the last 90 days, insiders acquired 41,650 shares of company stock valued at $144,544. 44.60% of the stock is owned by insiders.
About Edison Nation
Edison Nation, Inc, through its subsidiaries, primarily designs, manufactures, and sells various toy products directly to retailers or direct to consumers via e-commerce in North America, Asia, and Europe. It operates through two segments, Consumer Goods and Packaging Materials. The company produces battery-operated products for theme parks and entertainment venues; and party-related and arts and crafts-related items to retailers.
Featured Article: How to find the components of the quick ratio
Receive News & Ratings for Edison Nation Daily - Enter your email address below to receive a concise daily summary of the latest news and analysts' ratings for Edison Nation and related companies with MarketBeat.com's FREE daily email newsletter.