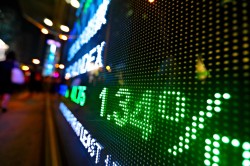 Shineco Inc (NASDAQ:TYHT) was the recipient of a significant growth in short interest during the month of June. As of June 30th, there was short interest totalling 206,600 shares, a growth of 31.7% from the May 30th total of 156,900 shares. Based on an average trading volume of 234,200 shares, the short-interest ratio is presently 0.9 days. Currently, 1.3% of the shares of the company are short sold.
TYHT stock remained flat at $$0.65 during mid-day trading on Friday. 46,551 shares of the company's stock traded hands, compared to its average volume of 83,241. The firm has a fifty day moving average price of $0.67. Shineco has a 1 year low of $0.43 and a 1 year high of $1.66.
Shineco (NASDAQ:TYHT) last issued its quarterly earnings data on Wednesday, May 15th. The company reported ($0.05) earnings per share (EPS) for the quarter. The company had revenue of $7.70 million for the quarter. Shineco had a positive return on equity of 0.22% and a negative net margin of 4.78%.
Shineco Company Profile
Shineco, Inc, a holding company, through its subsidiaries, produces, distributes, and sells health and well-being focused plant-based products in China. It processes and distributes traditional Chinese herbal medicine products, as well as other pharmaceutical products directly to individual customers.
Read More: Hold Rating
Receive News & Ratings for Shineco Daily - Enter your email address below to receive a concise daily summary of the latest news and analysts' ratings for Shineco and related companies with MarketBeat.com's FREE daily email newsletter.