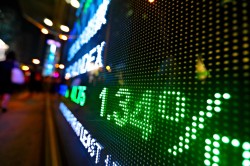 Shares of SDCL Energy Efficiency Income Trust PLC (LON:SEIT) rose 0.5% during trading on Friday . The company traded as high as GBX 107 ($1.40) and last traded at GBX 106.99 ($1.40). Approximately 615,586 shares traded hands during mid-day trading, an increase of ∞ from the average daily volume of 0 shares. The stock had previously closed at GBX 106.50 ($1.39).
The business's 50 day simple moving average is GBX 105.62.
The business also recently disclosed a dividend, which was paid on Friday, June 28th. Stockholders of record on Thursday, May 23rd were given a GBX 1 ($0.01) dividend. This represents a dividend yield of 0.95%. The ex-dividend date of this dividend was Thursday, May 23rd.
In related news, insider Christopher Knowles acquired 5,000 shares of the company's stock in a transaction dated Tuesday, April 16th. The shares were bought at an average cost of GBX 101 ($1.32) per share, with a total value of £5,050 ($6,598.72).
Featured Story: Why do corrections happen?

Receive News & Ratings for SDCL Energy Efficiency Income Trust Daily - Enter your email address below to receive a concise daily summary of the latest news and analysts' ratings for SDCL Energy Efficiency Income Trust and related companies with MarketBeat.com's FREE daily email newsletter.