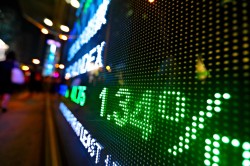 Shares of Indoor Skydive Australia Group Ltd (ASX:IDZ) traded up 125% during trading on Friday . The company traded as high as A$0.03 ($0.02) and last traded at A$0.02 ($0.01). 3,452,976 shares traded hands during trading, an increase of ∞ from the average session volume of 0 shares. The stock had previously closed at A$0.01 ($0.01).
The stock has a market cap of $2.46 million and a price-to-earnings ratio of -0.25. The company has a quick ratio of 0.14, a current ratio of 0.17 and a debt-to-equity ratio of 53.42. The company has a fifty day simple moving average of A$0.02.
Indoor Skydive Australia Group Company Profile (ASX:IDZ)
Indoor Skydive Australia Group Limited owns and operates indoor skydiving facilities in Australia. It operates facilities under the iFly Downunder brand located at Penrith; the iFLY Gold Coast brand located at Queensland; and iFLY Perth brand located in Perth. The company offers its facilities for use by tourists; enthusiasts; and military.
Featured Article: Understanding each part of a balance sheet
Receive News & Ratings for Indoor Skydive Australia Group Daily - Enter your email address below to receive a concise daily summary of the latest news and analysts' ratings for Indoor Skydive Australia Group and related companies with MarketBeat.com's FREE daily email newsletter.