Wall Street analysts expect that Cinedigm Corp (NASDAQ:CIDM) will post earnings of ($0.06) per share for the current fiscal quarter, Zacks Investment Research reports. Two analysts have provided estimates for Cinedigm's earnings, with the lowest EPS estimate coming in at ($0.09) and the highest estimate coming in at ($0.02). The business is expected to issue its next quarterly earnings results on Monday, June 24th.
According to Zacks, analysts expect that Cinedigm will report full year earnings of ($0.34) per share for the current fiscal year, with EPS estimates ranging from ($0.37) to ($0.30). For the next fiscal year, analysts anticipate that the business will report earnings of ($0.37) per share, with EPS estimates ranging from ($0.49) to ($0.25). Zacks Investment Research's earnings per share calculations are a mean average based on a survey of research firms that cover Cinedigm.
A number of equities analysts have recently issued reports on the stock. ValuEngine upgraded shares of Cinedigm from a "hold" rating to a "buy" rating in a research report on Wednesday, May 1st. Canaccord Genuity set a $3.00 target price on shares of Cinedigm and gave the stock a "buy" rating in a research report on Wednesday, April 10th.
An institutional investor recently bought a new position in Cinedigm stock. Bailard Inc. purchased a new position in shares of Cinedigm Corp (NASDAQ:CIDM) in the 1st quarter, according to its most recent disclosure with the Securities & Exchange Commission. The firm purchased 46,100 shares of the business services provider's stock, valued at approximately $88,000. Bailard Inc. owned 0.13% of Cinedigm at the end of the most recent reporting period. Institutional investors own 7.65% of the company's stock.
Shares of CIDM traded down $0.22 during mid-day trading on Friday, reaching $1.51. 132,443 shares of the company's stock were exchanged, compared to its average volume of 94,138. The firm has a market cap of $53.87 million, a PE ratio of -1.86 and a beta of 1.73. Cinedigm has a 52-week low of $0.48 and a 52-week high of $2.06.
Cinedigm Company Profile
Cinedigm Corp., together with its subsidiaries, operates as distributor and aggregator of independent movie, television, and other short form content primarily in the United States. The company operates through four segments: The First Digital Cinema Deployment, The Second Digital Cinema Deployment, Digital Cinema Services, and Media Content and Entertainment Group.
Featured Story: What is systematic risk?

Get a free copy of the Zacks research report on Cinedigm (CIDM)
For more information about research offerings from Zacks Investment Research, visit Zacks.com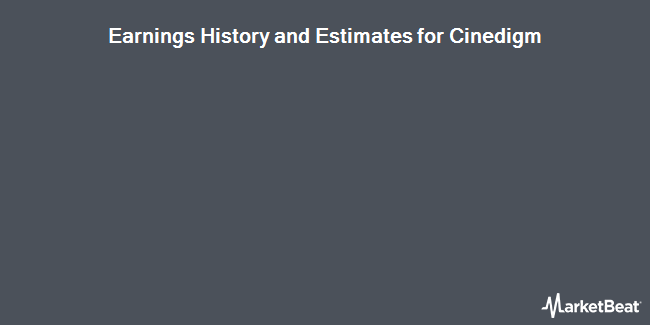 Receive News & Ratings for Cinedigm Daily - Enter your email address below to receive a concise daily summary of the latest news and analysts' ratings for Cinedigm and related companies with MarketBeat.com's FREE daily email newsletter.