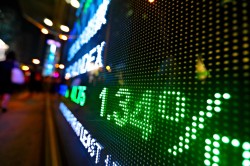 Woolworths Group Ltd (OTCMKTS:WOLWF) shares were up 3.6% during trading on Thursday . The stock traded as high as $23.34 and last traded at $23.34. Approximately 177 shares changed hands during trading, a decline of 56% from the average daily volume of 404 shares. The stock had previously closed at $22.53.
Several analysts have commented on WOLWF shares. UBS Group downgraded Woolworths Group from a "buy" rating to a "neutral" rating in a research note on Wednesday, May 15th. Citigroup downgraded Woolworths Group from a "neutral" rating to a "sell" rating in a research note on Friday, May 24th.
The business's 50 day simple moving average is $22.84.
About Woolworths Group
(
OTCMKTS:WOLWF
)
Woolworths Group Limited operates retail stores. It operates through Australian Food, New Zealand Food, Endeavour Drinks, BIG W, Hotels, and Other segments. The Australian Food segment engages in the procurement and resale of food products to customers in Australia. It operates 1,008 Woolworths supermarkets and Metro stores.
Further Reading: What economic reports are most valuable to investors?
Receive News & Ratings for Woolworths Group Daily - Enter your email address below to receive a concise daily summary of the latest news and analysts' ratings for Woolworths Group and related companies with MarketBeat.com's FREE daily email newsletter.