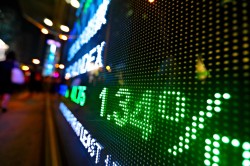 Leerink Swann initiated coverage on shares of Axcella Health (NASDAQ:AXLA) in a research report issued to clients and investors on Monday, June 3rd, The Fly reports. The brokerage set an "outperform" rating on the stock.
Separately, Goldman Sachs Group started coverage on Axcella Health in a research note on Sunday, June 2nd. They issued a "buy" rating and a $25.00 price objective for the company.
Shares of NASDAQ:AXLA traded up $0.19 during midday trading on Monday, reaching $9.31. The company's stock had a trading volume of 89,777 shares, compared to its average volume of 75,376. The stock has a 50 day moving average of $12.81. Axcella Health has a fifty-two week low of $8.12 and a fifty-two week high of $15.99.
Axcella Health (NASDAQ:AXLA) last posted its quarterly earnings results on Thursday, June 20th. The company reported ($2.43) earnings per share for the quarter, missing analysts' consensus estimates of ($0.39) by ($2.04). Research analysts predict that Axcella Health will post -3.05 EPS for the current fiscal year.
In other Axcella Health news, major shareholder Ventures Fund Iv L.P Flagship bought 500,000 shares of Axcella Health stock in a transaction dated Monday, May 13th. The stock was bought at an average cost of $20.00 per share, with a total value of $10,000,000.00. The transaction was disclosed in a filing with the Securities & Exchange Commission, which can be accessed through this link. Also, Director David R. Epstein acquired 14,500 shares of Axcella Health stock in a transaction on Wednesday, June 26th. The shares were purchased at an average cost of $9.57 per share, with a total value of $138,765.00. The disclosure for this purchase can be found here.
Axcella Health Company Profile
There is no company description available for Axcella Health Inc
Featured Article: Fiduciary

Receive News & Ratings for Axcella Health Daily - Enter your email address below to receive a concise daily summary of the latest news and analysts' ratings for Axcella Health and related companies with MarketBeat.com's FREE daily email newsletter.