Ooma (NYSE:OOMA) issued an update on its FY 2020 earnings guidance on Tuesday morning. The company provided earnings per share guidance of $-0.24–0.19 for the period, compared to the Thomson Reuters consensus earnings per share estimate of $-0.19. The company issued revenue guidance of $145-148 million, compared to the consensus revenue estimate of $141.69 million.Ooma also updated its FY20 guidance to ($0.24)-($0.19) EPS.
Shares of Ooma stock traded up $0.17 during trading on Friday, reaching $12.05. 40,800 shares of the company traded hands, compared to its average volume of 57,146. The company has a quick ratio of 1.16, a current ratio of 1.30 and a debt-to-equity ratio of 0.07. Ooma has a 1-year low of $11.28 and a 1-year high of $17.50. The company has a market capitalization of $246.74 million, a PE ratio of -17.51 and a beta of 1.02.
Ooma (NYSE:OOMA) last released its quarterly earnings data on Tuesday, May 21st. The technology company reported ($0.19) earnings per share for the quarter, topping the Thomson Reuters' consensus estimate of ($0.20) by $0.01. Ooma had a negative net margin of 11.75% and a negative return on equity of 42.73%. The firm had revenue of $34.01 million for the quarter, compared to the consensus estimate of $33.64 million. Sell-side analysts expect that Ooma will post -0.82 EPS for the current fiscal year.
Several research firms have recently issued reports on OOMA.
Zacks Investment Research
upgraded shares of Ooma from a sell rating to a hold rating in a research note on Saturday, April 20th. Northland Securities reiterated a buy rating and issued a $18.00 target price on shares of Ooma in a research note on Wednesday, May 22nd. Finally,
ValuEngine
lowered shares of Ooma from a strong-buy rating to a buy rating in a research note on Thursday, May 23rd. Two research analysts have rated the stock with a hold rating and five have assigned a buy rating to the stock. The stock currently has an average rating of Buy and a consensus target price of $17.70.
In related news, CEO Eric B. Stang sold 12,340 shares of the stock in a transaction dated Wednesday, May 15th. The shares were sold at an average price of $13.84, for a total transaction of $170,785.60. Following the completion of the transaction, the chief executive officer now owns 397,500 shares in the company, valued at $5,501,400. The transaction was disclosed in a document filed with the SEC, which is available through this link. In the last 90 days, insiders have sold 13,340 shares of company stock valued at $184,286. 10.19% of the stock is owned by company insiders.
An institutional investor recently raised its position in Ooma stock. Geode Capital Management LLC lifted its position in Ooma Inc (NYSE:OOMA) by 5.9% during the fourth quarter, according to the company in its most recent Form 13F filing with the Securities and Exchange Commission. The institutional investor owned 220,009 shares of the technology company's stock after buying an additional 12,220 shares during the quarter. Geode Capital Management LLC owned approximately 1.09% of Ooma worth $3,052,000 at the end of the most recent quarter. 75.98% of the stock is currently owned by institutional investors.
ILLEGAL ACTIVITY NOTICE: This news story was originally posted by Rockland Register and is the property of of Rockland Register. If you are viewing this news story on another publication, it was stolen and republished in violation of United States and international copyright laws. The correct version of this news story can be viewed at https://rocklandregister.com/2019/06/14/ooma-ooma-releases-fy-2020-earnings-guidance.html.
Ooma Company Profile
Ooma, Inc creates connected experiences for businesses and consumers in the United States, Canada, and internationally. The company's smart cloud-based SaaS platform serves as a communications hub, which offers cloud-based communications solutions, smart security, and other connected services. Its business and residential solutions deliver PureVoice high-definition voice quality, advanced functionality, and integration with mobile devices; and platform helps to create smart workplace and homes by offering communications, monitoring, security, automation, productivity, and networking infrastructure applications.
Further Reading: What are retained earnings?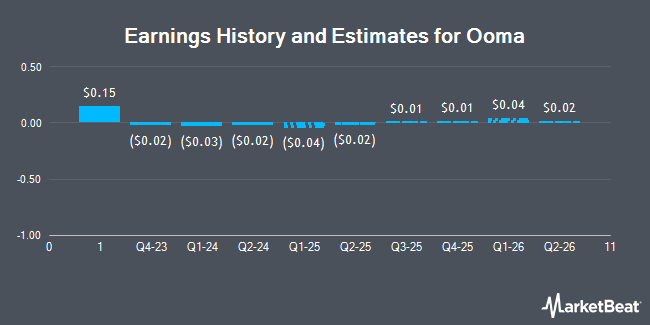 Receive News & Ratings for Ooma Daily - Enter your email address below to receive a concise daily summary of the latest news and analysts' ratings for Ooma and related companies with MarketBeat.com's FREE daily email newsletter.