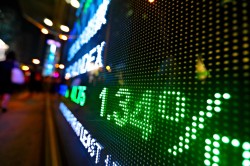 TAIWAN LIPOSOME/S (NASDAQ:TLC) announced its earnings results on Wednesday, May 8th. The company reported ($0.06) EPS for the quarter, topping the Zacks' consensus estimate of ($0.25) by $0.19, MarketWatch Earnings reports. TAIWAN LIPOSOME/S had a negative return on equity of 150.37% and a negative net margin of 414.31%. The company had revenue of $5.11 million for the quarter, compared to analysts' expectations of $3.00 million.
Shares of NASDAQ:TLC opened at $5.40 on Friday. TAIWAN LIPOSOME/S has a 1 year low of $5.02 and a 1 year high of $11.00. The company has a current ratio of 3.45, a quick ratio of 3.45 and a debt-to-equity ratio of 0.55.
TLC has been the topic of a number of recent research reports. Zacks Investment Research cut TAIWAN LIPOSOME/S from a "hold" rating to a "sell" rating in a report on Tuesday, March 19th. Cantor Fitzgerald reaffirmed a "buy" rating and issued a $11.00 target price on shares of TAIWAN LIPOSOME/S in a report on Monday, March 18th. Finally, HC Wainwright reaffirmed a "buy" rating on shares of TAIWAN LIPOSOME/S in a report on Thursday, April 18th. One equities research analyst has rated the stock with a sell rating and four have assigned a buy rating to the company. The stock currently has an average rating of "Buy" and an average target price of $10.67.
ILLEGAL ACTIVITY NOTICE: This article was originally published by Rockland Register and is the property of of Rockland Register. If you are reading this article on another site, it was illegally stolen and republished in violation of U.S. and international trademark & copyright law. The legal version of this article can be viewed at https://rocklandregister.com/2019/06/01/taiwan-liposome-s-tlc-releases-earnings-results-beats-expectations-by-0-19-eps.html.
TAIWAN LIPOSOME/S Company Profile
Taiwan Liposome Company, Ltd., a clinical-stage specialty pharmaceutical company, engages in the development and commercialization of nanomedicines that combine its proprietary lipid-assembled drug delivery platform with approved active pharmaceutical ingredients (APIs). Its BioSeizer lipid formulation technology enables pharmacokinetic (PK) control and local sustained release of APIs at the site of disease or injury; and NanoX targeted delivery technology enables prolonged PK profiles and enhanced distribution of liposome-encapsulated APIs at the desired site.
Featured Story: Is it Safe to Invest in Commodities?
Receive News & Ratings for TAIWAN LIPOSOME/S Daily - Enter your email address below to receive a concise daily summary of the latest news and analysts' ratings for TAIWAN LIPOSOME/S and related companies with MarketBeat.com's FREE daily email newsletter.