NN (NASDAQ:NNBR) issued an update on its FY19 earnings guidance on Thursday morning. The company provided earnings per share guidance of $1.10-1.30 for the period, compared to the Thomson Reuters consensus earnings per share estimate of $1.14. The company issued revenue guidance of $870-890 million, compared to the consensus revenue estimate of $869.76 million.
NN stock opened at $7.75 on Friday. NN has a 12 month low of $5.55 and a 12 month high of $22.75. The company has a debt-to-equity ratio of 2.26, a quick ratio of 1.12 and a current ratio of 1.90. The company has a market capitalization of $329.19 million, a PE ratio of 7.06 and a beta of 1.42.
NN (NASDAQ:NNBR) last posted its earnings results on Thursday, May 9th. The industrial products company reported $0.20 EPS for the quarter, beating the consensus estimate of $0.16 by $0.04. NN had a positive return on equity of 7.79% and a negative net margin of 34.01%. The company had revenue of $213.26 million for the quarter, compared to the consensus estimate of $209.86 million. On average, analysts anticipate that NN will post 1.18 EPS for the current year.
NNBR has been the topic of several research reports.
Zacks Investment Research
downgraded NN from a hold rating to a sell rating in a research report on Tuesday, March 19th. BidaskClub downgraded NN from a hold rating to a sell rating in a research report on Wednesday, March 13th. Finally, Robert W. Baird reduced their price target on NN from $11.00 to $9.00 and set a neutral rating on the stock in a research report on Monday, March 18th. Two analysts have rated the stock with a sell rating, three have issued a hold rating and four have issued a buy rating to the company. The stock has an average rating of Hold and a consensus price target of $17.33.
In other NN news, Director David Floyd bought 9,000 shares of the business's stock in a transaction on Tuesday, May 28th. The stock was purchased at an average cost of $8.05 per share, for a total transaction of $72,450.00. Following the completion of the purchase, the director now directly owns 23,660 shares of the company's stock, valued at $190,463. The acquisition was disclosed in a filing with the SEC, which is available at this link. 2.48% of the stock is owned by corporate insiders.
A hedge fund recently raised its stake in NN stock. Geode Capital Management LLC boosted its holdings in shares of NN, Inc. (NASDAQ:NNBR) by 33.3% in the 4th quarter, according to its most recent disclosure with the Securities and Exchange Commission (SEC). The fund owned 460,507 shares of the industrial products company's stock after purchasing an additional 115,157 shares during the period. Geode Capital Management LLC owned about 1.09% of NN worth $3,090,000 at the end of the most recent quarter. 99.35% of the stock is owned by institutional investors.
ILLEGAL ACTIVITY NOTICE: This story was reported by Rockland Register and is the property of of Rockland Register. If you are reading this story on another domain, it was illegally copied and republished in violation of US & international copyright laws. The original version of this story can be read at https://rocklandregister.com/2019/06/01/nn-nnbr-issues-fy19-earnings-guidance.html.
About NN
NN, Inc, a diversified industrial company, designs and manufactures high-precision components and assemblies in the United States, Europe, Asia, Canada, Mexico, South America, and internationally. It operates through Autocam Precision Components Group and Precision Engineered Products Group segments.
Recommended Story: What is a Derivative?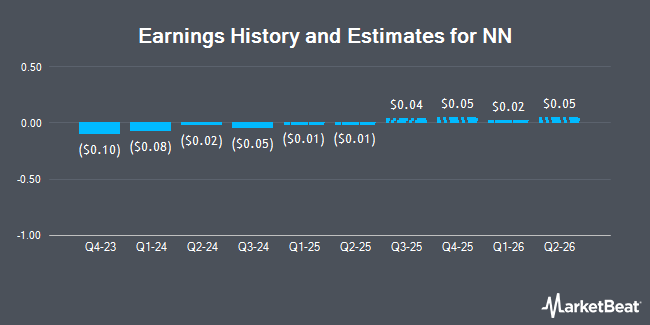 Receive News & Ratings for NN Daily - Enter your email address below to receive a concise daily summary of the latest news and analysts' ratings for NN and related companies with MarketBeat.com's FREE daily email newsletter.