W W Grainger Inc (NYSE:GWW) announced a quarterly dividend on Wednesday, April 24th, RTT News reports. Stockholders of record on Monday, May 13th will be given a dividend of 1.44 per share by the industrial products company on Saturday, June 1st. This represents a $5.76 annualized dividend and a dividend yield of 2.20%. The ex-dividend date of this dividend is Friday, May 10th. This is a positive change from W W Grainger's previous quarterly dividend of $1.36.
W W Grainger has raised its dividend by an average of 5.3% per year over the last three years and has raised its dividend every year for the last 47 years. W W Grainger has a payout ratio of 35.9% indicating that its dividend is sufficiently covered by earnings. Research analysts expect W W Grainger to earn $19.67 per share next year, which means the company should continue to be able to cover its $5.76 annual dividend with an expected future payout ratio of 29.3%.
Shares of GWW stock traded down $2.90 during mid-day trading on Friday, hitting $261.69. The stock had a trading volume of 435,626 shares, compared to its average volume of 484,373. The company has a debt-to-equity ratio of 0.97, a quick ratio of 1.36 and a current ratio of 2.40. The stock has a market capitalization of $14.51 billion, a PE ratio of 15.67, a price-to-earnings-growth ratio of 1.28 and a beta of 0.96. W W Grainger has a fifty-two week low of $255.09 and a fifty-two week high of $372.06.
W W Grainger (NYSE:GWW) last posted its earnings results on Monday, April 22nd. The industrial products company reported $4.51 earnings per share for the quarter, beating the Thomson Reuters' consensus estimate of $4.42 by $0.09. W W Grainger had a net margin of 7.12% and a return on equity of 46.09%. The firm had revenue of $2.80 billion during the quarter, compared to the consensus estimate of $2.88 billion. During the same period last year, the firm posted $4.18 EPS. The firm's revenue for the quarter was up 1.2% on a year-over-year basis. Equities analysts forecast that W W Grainger will post 17.94 earnings per share for the current fiscal year.
W W Grainger announced that its Board of Directors has approved a share repurchase program on Wednesday, April 24th that permits the company to buyback 5,000,000 shares. This buyback authorization permits the industrial products company to purchase shares of its stock through open market purchases. Stock buyback programs are typically an indication that the company's board of directors believes its stock is undervalued.
A number of brokerages have recently commented on GWW. Morgan Stanley lifted their price target on shares of W W Grainger from $266.00 to $273.00 and gave the stock an "underweight" rating in a report on Wednesday, April 24th. BMO Capital Markets decreased their target price on shares of W W Grainger from $320.00 to $310.00 and set a "market perform" rating on the stock in a research report on Tuesday, April 23rd. ValuEngine cut shares of W W Grainger from a "hold" rating to a "sell" rating in a research report on Friday, May 17th. Gordon Haskett raised shares of W W Grainger from an "underperform" rating to a "hold" rating and set a $264.58 price target on the stock in a research report on Friday, May 17th. Finally, Stephens set a $318.00 price target on shares of W W Grainger and gave the company a "hold" rating in a research report on Tuesday, April 23rd. Four investment analysts have rated the stock with a sell rating, thirteen have given a hold rating and three have assigned a buy rating to the company. The stock currently has a consensus rating of "Hold" and an average target price of $309.13.
COPYRIGHT VIOLATION WARNING: "W W Grainger Inc (NYSE:GWW) Declares Quarterly Dividend of $1.44" was first published by Rockland Register and is owned by of Rockland Register. If you are reading this piece on another domain, it was illegally copied and republished in violation of international trademark and copyright legislation. The legal version of this piece can be viewed at https://rocklandregister.com/2019/05/31/w-w-grainger-inc-gww-to-go-ex-dividend-on-may-10th.html.
W W Grainger Company Profile
W.W. Grainger, Inc distributes maintenance, repair, and operating (MRO) products and services in the United States, Canada, Europe, Japan, Mexico, and internationally. The company provides material handling equipment, safety and security supplies, lighting and electrical products, power and hand tools, pumps and plumbing supplies, cleaning and maintenance supplies, and metalworking tools, as well as gloves, ladders, motors, and janitorial supplies.
Further Reading: What is the CBOE Russell 2000® Volatility Index?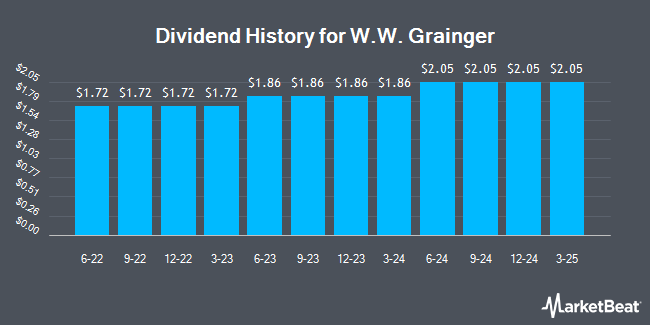 Receive News & Ratings for W W Grainger Daily - Enter your email address below to receive a concise daily summary of the latest news and analysts' ratings for W W Grainger and related companies with MarketBeat.com's FREE daily email newsletter.