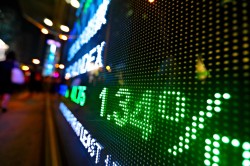 Altura Energy (CVE:ATU) had its price target dropped by research analysts at GMP Securities from C$0.80 to C$0.75 in a research report issued to clients and investors on Tuesday, May 7th, BayStreet.CA reports. GMP Securities' target price points to a potential upside of 78.57% from the company's current price.
Separately, Haywood Securities set a C$0.70 target price on Altura Energy and gave the stock a "buy" rating in a research note on Monday, February 11th.
Altura Energy stock traded down C$0.01 during midday trading on Tuesday, reaching C$0.42. The stock had a trading volume of 21,000 shares, compared to its average volume of 47,372. Altura Energy has a 12 month low of C$0.34 and a 12 month high of C$0.70. The firm has a market capitalization of $45.75 million and a price-to-earnings ratio of 15.00. The company has a debt-to-equity ratio of 4.97, a current ratio of 0.60 and a quick ratio of 0.56.
Altura Energy (CVE:ATU) last released its quarterly earnings results on Thursday, March 21st. The company reported C($0.01) earnings per share (EPS) for the quarter. The business had revenue of C$3.06 million during the quarter. On average, sell-side analysts expect that Altura Energy will post 0.02 EPS for the current year.
Altura Energy Company Profile
Altura Energy Inc engages in the exploration, development, and production of oil and natural gas in central Alberta. It holds interests in the oil producing units of the Leduc-Woodbend area located in Alberta. The company was formerly known as Northern Spirit Resources Inc and changed its name to Altura Energy Inc in October 2015.
Read More: Momentum Indicators
Receive News & Ratings for Altura Energy Daily - Enter your email address below to receive a concise daily summary of the latest news and analysts' ratings for Altura Energy and related companies with MarketBeat.com's FREE daily email newsletter.