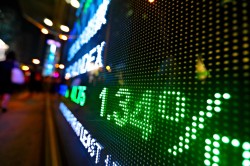 Eltek Ltd. (NASDAQ:ELTK) shares traded down 12.4% during trading on Friday . The stock traded as low as $7.15 and last traded at $7.29. 10,175,835 shares changed hands during mid-day trading, an increase of 1,093% from the average session volume of 853,105 shares. The stock had previously closed at $8.32.
The company has a debt-to-equity ratio of 0.35, a current ratio of 0.68 and a quick ratio of 0.47.
Eltek (NASDAQ:ELTK) last announced its earnings results on Wednesday, May 29th. The technology company reported $0.12 earnings per share (EPS) for the quarter. Eltek had a negative return on equity of 124.88% and a negative net margin of 5.02%. The business had revenue of $8.74 million for the quarter.
COPYRIGHT VIOLATION WARNING: This news story was originally reported by Rockland Register and is owned by of Rockland Register. If you are viewing this news story on another site, it was illegally copied and republished in violation of international trademark and copyright laws. The correct version of this news story can be read at https://rocklandregister.com/2019/05/31/eltek-eltk-stock-price-down-12-4.html.
About Eltek
(
NASDAQ:ELTK
)
Eltek Ltd. manufactures, markets, and sells printed circuit boards (PCBs) in Israel, Europe, North America, India, and internationally. The company offers a range of custom designed PCBs, including rigid, double-sided, and multi-layer PCBs; and flexible circuitry, such as flex and flex rigid boards. It serves manufacturers of defense and aerospace, medical, industrial, telecom, and networking equipment, as well as contract electronic manufacturers and other industries.
Further Reading: What are Institutional Investors?
Receive News & Ratings for Eltek Daily - Enter your email address below to receive a concise daily summary of the latest news and analysts' ratings for Eltek and related companies with MarketBeat.com's FREE daily email newsletter.