Ardelyx (NASDAQ:ARDX) posted its quarterly earnings results on Tuesday, May 7th. The biopharmaceutical company reported ($0.42) earnings per share for the quarter, missing the Zacks' consensus estimate of ($0.39) by ($0.03), Fidelity Earnings reports.
NASDAQ ARDX opened at $2.55 on Friday. The company has a quick ratio of 7.41, a current ratio of 7.41 and a debt-to-equity ratio of 0.58. Ardelyx has a 52-week low of $1.60 and a 52-week high of $4.70.
A number of analysts have recently commented on ARDX shares. Piper Jaffray Companies started coverage on Ardelyx in a research report on Monday, April 8th. They set an "overweight" rating and a $15.00 target price on the stock. Zacks Investment Research cut Ardelyx from a "buy" rating to a "hold" rating in a research report on Wednesday, March 20th. Finally, ValuEngine cut Ardelyx from a "hold" rating to a "sell" rating in a research report on Monday, May 13th. One research analyst has rated the stock with a sell rating, two have assigned a hold rating and three have given a buy rating to the stock. The stock currently has an average rating of "Hold" and a consensus target price of $8.81.
An institutional investor recently raised its position in Ardelyx stock. Geode Capital Management LLC increased its stake in shares of Ardelyx Inc (NASDAQ:ARDX) by 7.0% during the fourth quarter, according to the company in its most recent disclosure with the Securities & Exchange Commission. The fund owned 680,329 shares of the biopharmaceutical company's stock after buying an additional 44,444 shares during the quarter. Geode Capital Management LLC owned about 1.09% of Ardelyx worth $1,217,000 at the end of the most recent quarter. Hedge funds and other institutional investors own 73.54% of the company's stock.
ILLEGAL ACTIVITY NOTICE: This piece of content was reported by Rockland Register and is the sole property of of Rockland Register. If you are viewing this piece of content on another site, it was copied illegally and reposted in violation of United States and international copyright law. The correct version of this piece of content can be read at https://rocklandregister.com/2019/05/31/ardelyx-ardx-posts-earnings-results-misses-expectations-by-0-03-eps.html.
About Ardelyx
Ardelyx, Inc, a specialized biopharmaceutical company, develops and sells medicines for the treatment of cardio renal diseases in the United States and internationally. The company's lead product candidate is tenapanor, which has completed Phase III clinical trial for the treatment of patients with irritable bowel syndrome with constipation, as well as in Phase III clinical trial for the treatment of hyperphosphatemia in end-stage renal disease patients on dialysis.
Recommended Story: Capital gains and your 401(k) or IRA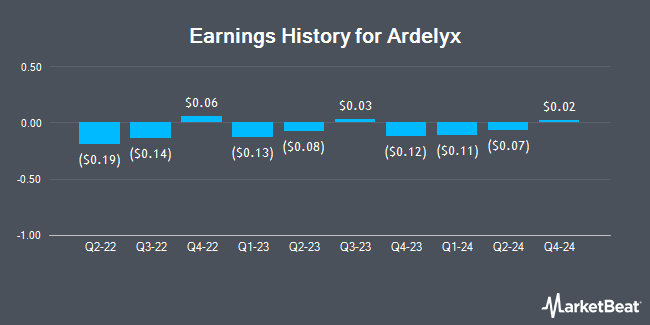 Receive News & Ratings for Ardelyx Daily - Enter your email address below to receive a concise daily summary of the latest news and analysts' ratings for Ardelyx and related companies with MarketBeat.com's FREE daily email newsletter.